Center for Girls hosts many volunteers throughout the year. On average the volunteers stay for 2 months. Jessica, was one of the most recent volunteers, who stayed with CFG for 6 weeks.
Jessica is from Missouri, USA with a bachelor degree in international relations. Before volunteering with CFG she had experience in working in boys' and girls' afterschool program and also teaching English.
Jessica found the volunteering opportunity through Workaway- a platform that allows to arrange homestays and cultural exchanges. She specifically searched for the projects connected to human trafficking and CFG came up. The reason for applying was wanting to gain more experience on how to help human trafficking survivors and gain more knowledge about the work such as the methods of it and networking. In addition, to gain more knowledge about child abuse and discrimination against women.
Jessica describes CFG as a warm and comfortable place, where they do everything to accommodate you and make you feel welcomed. It is a good place to start for those, who don't know exactly where they want to go.
Before starting the experience, there were some concerns about how to interact with people because of the language barrier. It would have been more helpful to speak some Thai, but it's not absolutely necessary. In addition, on their first day volunteers read the Volunteer Book of Magic, which includes all the necessary information about the work and guides them through the experience.
As a volunteer the main tasks were to keep up with emails, help writing reports and projects, regularly updating social media, writing blog posts, assisting during events (seminars, workshops) in any way and overall just trying to get involved as much as possible.
At first one of the most surprising things about the experience was the lack of structure the volunteers' work have. Every week is different and there are no specific tasks all the time. Therefore, it is important to adapt and also come up with your own ideas and take an initiative and not wait for the others to say what to do. It is also important to realize that volunteering is not going to be easy all the time. Language barrier can be frustrating at times.
There's a lot to learn during the voluntary service. For example, about the area and its many different ethnic groups. Furthermore, the history of human trafficking in the region and why it's so prevalent in Thailand, about child abuse, child marriages and discrimination against women and why it still exists.
Overall, Jessica is very satisfied with the experience and wished she could stay longer as she loves it here. Although, the first couple of weeks were a bit of a rough start as being an only volunteer, which is not usually the case. Usually there are two volunteers at the time so that when the new volunteer arrives the older one can explain the work and share the experience. But she learned quickly and got a hold of the work.
For Jessica the most important lesson to take from this experience would firstly, to try to do a better job understanding the people at the very basic community level and that everyone has different values. And be more open-mined about that. Secondly, to remember to be more proactive and everyday do a bit more work towards that. That means working on developing your goals and don't let days just go by. Taking the advantage of learning and doing research.
Even though Jessica's volunteering just ended she would already want to come back and for example work with a bigger project. Or at least keep up with Center for Girls and do something for them and help them. That could be to bring up their advocacy to the other parts of the world, for example to the US. But if not, then at least stay in this field and continue working with the similar topics.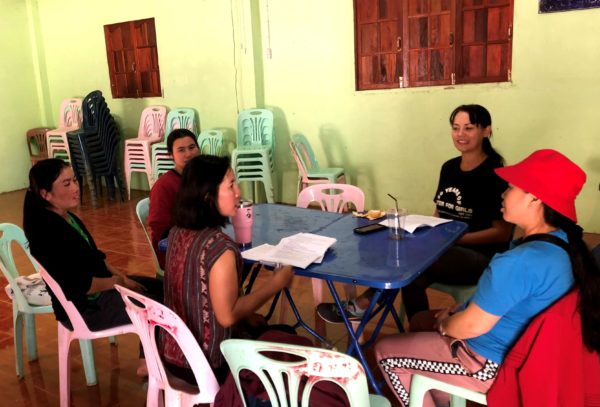 _________________________________________________________ 
'Want to stay up-to-date? Follow us on Facebook, Instagram and Twitter
Interested in volunteering with CFG? Let us know
Not able to come to join us in Thailand yet? Consider donating
Not able to donate today? Look for opportunities in your community to work against gender-based violence and human trafficking, as these are universal issues