CFG continues to Combat Human Trafficking!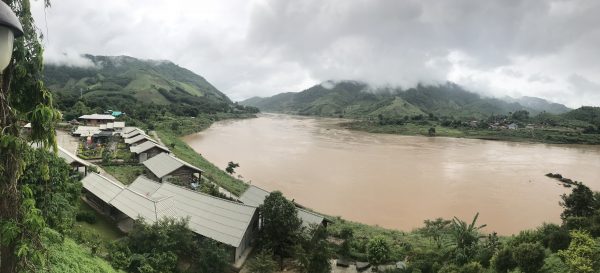 (Mekong River) 
I have been very fortunate to work with Center for Girls these past two months. I feel that I have learned and have given as much as I can. It seems that these blogs have a history of being written to highlight the work that CFG has done or will be doing.  I will continue with that but ask that you be welcoming of my own insight, experiences, and lessons as I share throughout this blogpost.
I have never been to Thailand and to be more accurate I had never traveled outside of the United States before this trip. It was not because I chose not to travel, but because it was hard to find a favorable time and travelling internationally is expensive. So, I want to first thank Mary T. and the University of Minnesota's CEHD program for creating this wonderful partnership with CFG that allowed for me to be here this summer. I also want to thank CFG for providing the opportunity for students like me to work with the organization and its community.
(Lisa, Ploysai, P'Loy, and Crystal at Punch BBQ)
Living in Chiang Khong and being so close to the Mekong River, seeing it every day still felt so surreal. A part of me is still processing the fact that I saw the river for the first time in Chiang Saen with my UMN professors and Mary T. Scholar representatives almost two months ago. That I was able to watch the water flow and people navigate through the fast currents or how the lights reflected on the water surface as I ate breakfast, lunch or dinner with P'Loy, Crystal, P'Kai, Ploysai, or other CFG staff and friends or just standing at Jampong Market Wednesday mornings to watch the boats cross bringing Laotian shoppers to Thailand's markets all became a part of my everyday life and experience this summer. I also came to understand how difficult and how intense CFG has to work in working with the community. Although CFG is not specifically environmentalist focused, this river and its story still impacts the lives of people whom CFG touches.
This summer, working with CFG to combat human trafficking was a new experience. The Mekong River has a peculiar role, as a boundary line for Thailand, Myanmar and Laos people are able to come in and out. In my family's own history, my parents were some of those who used this river to cross from Laos to Thailand. It felt nostalgic. I wonder how again my parents managed their crossing. The fear my mom talks about of being caught, of finding someone who may deceive them, or the very fear of drowning. I wonder why people cross willingly or not to be laborers. How a promise of a "better life" is more appealing than all the possibilities of it going wrong. Or how much fear and hopelessness someone must feel as they are forced and moved far from home. I wonder then what we can do to help, to support, to bring awareness to the communities, and to provide better opportunities for people.
CFG wishes to eradicate human trafficking, but that is a desired impact that will not come to be overnight. Every small step towards awareness. Every individual CFG can support and help makes it one less individual living in fear. Through the month of July 2018, CFG did many awareness trainings with communities like Ban Kiew Karn (a largely Hmong populated village), students at school learning about their rights and safety, the Chiang Khong city center, and people at Jampong Market. On July 25th CFG hosted a campaign at Jampong Market, a market near the Mekong River and one that allows for a few Bahts every Wednesday before noon, the crossing of Laotian people to shop. For CFG staff, it was hard to communicate with the people as many are Hmong Laotians and did not speak Thai. As a Hmong individual with an opportunity to communicate with the shoppers, it was a great experience. In having conversations with the people, they seem to know of the existence of people selling people but did not say if it was something of a concern to them or their communities.
I found interacting with Hmong Thai and Hmong Laos still reminded me of my interactions with Hmong people in America. I have only known Hmong Americans, but to hear and speak the same language, the gestures that resembles my own grandmothers or other women in the US and to go through the same polite conversation habits made me feel like I was home.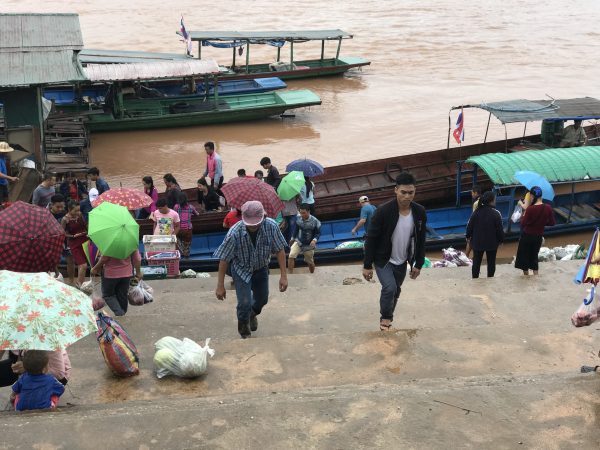 (Jampong Market)
A second campaign CFG continued from June to July was the Tuk Tuk Campaign through Chiang Khong City to reinforce July 30th—World Day Against Trafficking in Persons. What this campaign highlights more than the awareness it aims to bring, is the collaboration of the city in combating human trafficking. In this picture we have community members people who makes their world change, police officers, immigration officers, organizations, and people from the tuk tuk community.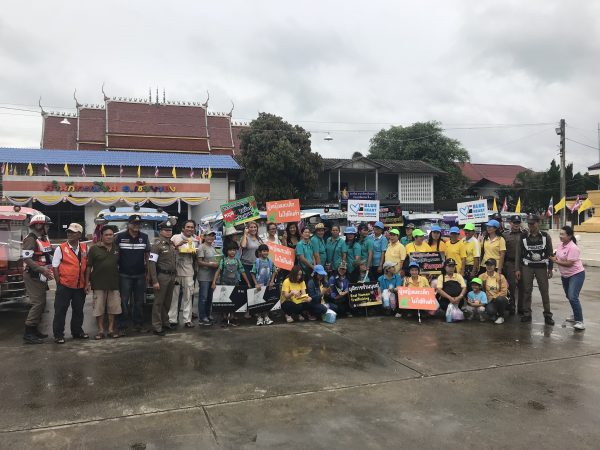 (Tuk Tuk Campaign July 30, 2018: World Day Against Trafficking in Persons)
Another campaign is a tabling event at the Monday Market, in which a game of darts for prizes was played and 1300 bracelets were made to highlight a phone number to call for assistance. Another area that the campaign for the month of July is targeting is the villages. Between July and August, we will be focusing on how to bring awareness of this to our youth. How to involve more youth in our campaign and how can our youth help us build a better online media platform. So, if you have any ideas or recommendations about how to build our online campaign platform against human trafficking please share!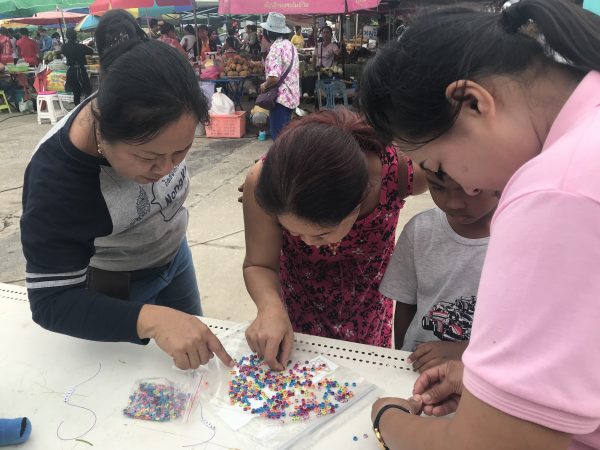 (July 30—Monday market 1300 bracelets)
(July 30 Campaign Video curtesy of Khiang Rim Khong)
The reality is eradicating human trafficking will not be achieved overnight, nor is it an individual person's battle to fight. The support is needed, the reinforcement is necessary. Let's continue to combat human trafficking by joining together, bringing awareness to the community, and using targeted campaigns and events to support our community.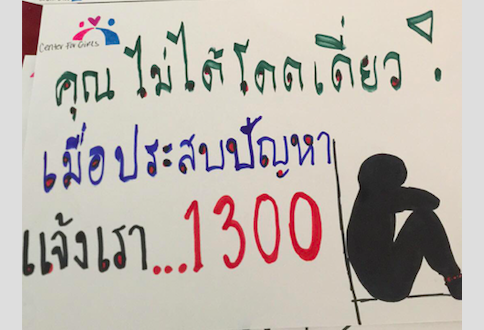 (Flyer for Village Human Trafficking Campaign-August 05, 2018)
The Mekong River to me has always been this vast, unyielding, revered and yet feared river that divided Laos and Thailand and haunted my mother as she shared her journey of crossing it. But it has such an important role in the life and stories of the Northern Thai people. I felt excitement and admiration to finally be standing on its banks, to see it and breath in its mist and to simply be able to dip my toes into the water. I felt humble to share in some part of my mother and father's history. To work with people in this area has been truly inspiring. There is a lot of dedication and I appreciate the passion that has driven this organization and others like it to continue working on these issues.
CFG loves the support of the community and people. If you have the time or the money to support the organization's cause, please don't hesitate to apply for a volunteer position or to donate.
Application: Here
Donate: Here